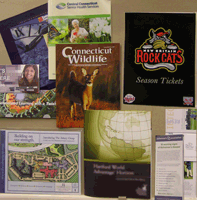 For more than two decades Advanced Printing Services in Bristol has met the printing and mailing needs of large and small businesses alike. We take a personal interest in each project and help our clients choose the best materials and technology for the desired result.
We exceed the image of a traditional print shop by applying new age technology to an old world trade. Our skills and services support a complete line of promotional materials.
Whether you're looking for stationery materials, a direct mail program or you're seeking large quantity procurement, Advanced Printing Services offers comprehensive and cohesive solutions that help bring your image into focus.
To learn more about the many products and services we offer, please contact Mike Kalman, (860) 583-1906, Ext. 109 or click on the 'Request An Estimate' link.
PRINTERSTATE I135 -- Need Directions?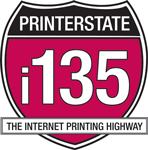 Ask us about becoming a part of Printerstate I135, the Internet Printing Highway.
We will create a customized website for your company, where buyers can order all the products they need printed, see an instant online proof, receive emails confirming their order receipt and shipment, and track their shipment effortlessly!
They say time is money, and Printerstate I135 will save you a fortune. Give us a call to find out how you can join our satisfied online customers.
PRODUCTS
SERVICES