ONLINE ORDERING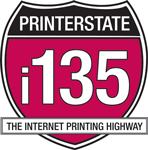 Work with us, and you can handle all your printing without ever leaving your desk. Through our website, you can request estimates, place orders and reorders, and send us your files, all online.
For added efficiency, become a part of Printerstate I135, the Internet Printing Highway. We will create a customized website for your company, where buyers can order all the products they need printed, see an instant online proof, receive emails confirming their order receipt and shipment, and track their shipment effortlessly!
They say time is money, and online ordering will save you a fortune. Give us a call to get started today.